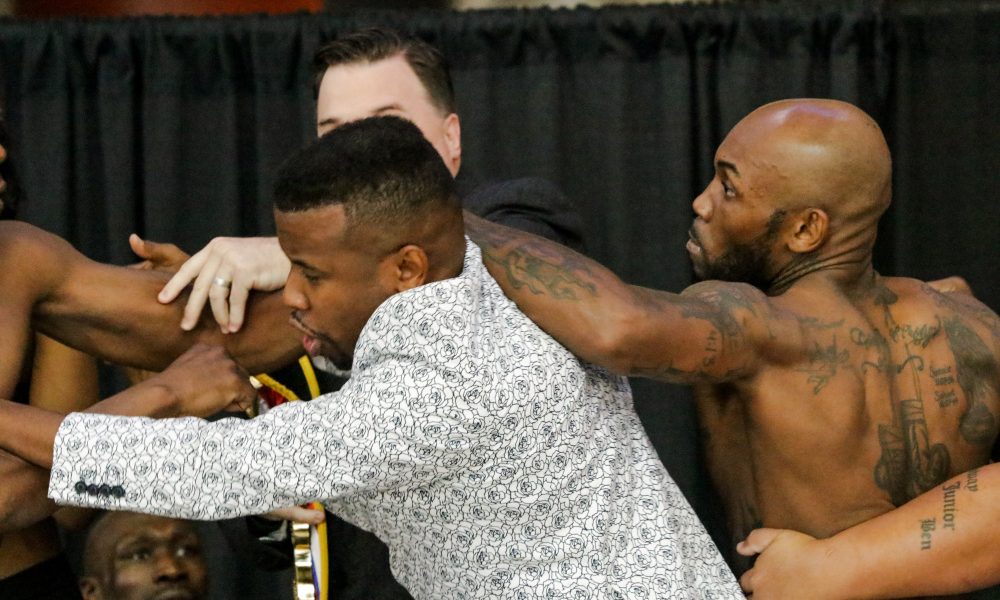 What would a championship boxing weigh-in be without a war of words that turns into an all-out brawl? "The Big Pay Back" Championship Boxing Fight Official Weigh-in took place yesterday at the FedEx Forum.
The calm before the storm was an exchange of words followed by a "talk to the hand" gesture by veteran Lanell "KO" Bellows (17W-2L-2D) of Las Vegas, NV and a push to the chest response by veteran Lamar Harris (9W-7L-1D) of St. Louis, MO.
"The Big Pay Back" boxing promoter Langston "Lank The King" Hampton Jr. had to step in and assist in separating the two fighters. Bellows and Harris will be fighting for the vacant ABF-USA Super Middleweight Title.
The headliner for the event is a boxing rematch between 7-time World Boxing Champion and future Hall of Famer DeMarcus "Chop Chop" Corley and former World Boxing Association (WBA) Light Welterweight Champion and Georgetown, Guyana native Vivian Harris.
There will be at least three local fighters in the Memphis area that will be stepping into the ring tonight. Super Welterweight Donald "The Bull Dog" Ward (9W-7L-1D) out of West Memphis, AR will be battling Fremont, Ohio's hometown favorite welterweight Charvis Holifield (7W-2L-1D).
Memphis native Grover Young (12W-25L-3D) will be battling undefeated Javonta Charles (4W-0L-0D) of North Las Vegas in a 4-round heavyweight fight. Memphis Marco Hall Jr. will be making his first professional boxing debut when he battles Demario Brent (1W-0L-0D) of D. C.
There will be one female boxing match between 5-time champion Ava Knight (14@-2L-4D) and Leesa Daniels (1W-2L-0D).
Tickets for the "The Big Payback" fight at the FedExForum start at just $15 for children and start at $25 for adults. Tickets are available at all Ticketmaster locations, ticketmaster.com, the FedExForum Box Office or by phone at (800) 745-3000. Starting time is 7 PM.
Tickets for the Official Afterparty hosted by Floyd Mayweather, Jr. are available at Ching's Hot Wings 1264 Getwell Rd, Memphis, TN 38111 or online at Eventbrite: Official "The Big Payback" Fight Afterparty hosted by Floyd Mayweather, Jr.