Memphis James Wiseman made his debut last night at the FedEx Forum as the University of Memphis (Tigers) hosted its season opener against South Carolina State (Bulldogs). Many people thought that Head Coach was blowing smoke when he said with confidence that his team would go all the way to the NCAA finals. Any doubts should have been laid to rest after last night's game against the Bulldogs. The Tigers dominated the floor like a well oil machine. It was a stark difference from the exhibition games between CBU and LeMoyne-Owen College. 
Wiseman had a fall in the game. When his 7"0' frame flew up and then dived down to the ground, fans were gasping. "All I keep thinking was get up, just get up", says Coach Hardaway. Luckily, he was able to get up with no injuries.
The Tigers defense were able to shut down scoring by South Carolina State lead scorer Damani Applewhite. The height and athletics of Memphis players James Wiseman, Precious Achiuwa, D. J. Jeffries and Lance Thomas were no match for Applewhite. Memphis blocked ten of South Carolina State shots while the Bulldogs only blocked one of the Tigers. 
The pre-game intro featured the players in short pants suits that got the crowd and players fired up. It was the first time fans and players viewed the video. "We did a lot of things and didn't know which part would be in the cut", says Lomax. Coach Hardaway chose the song for the video used Running Pony to put the video together.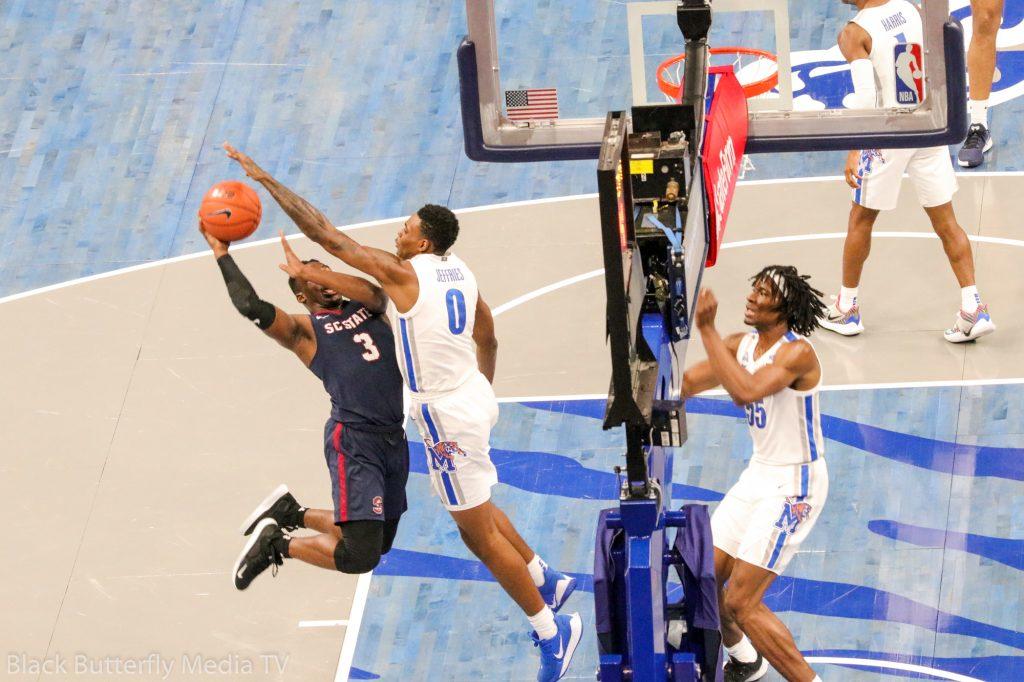 With such a young team, Coach Penny Hardaway has to be careful not to let they players be distracted by outside forces. What tends to happen sometimes is outside forces talking in player's ear with things like playing time on the floor. "Our biggest challenge is trying to protect young guys from the outside and negativity", says Hardaway.
The Tigers next opponent is Friday, November 8, 2019 against the University of Illinois Chicago at 6 PM. Both teams are (1-0). It will be interesting to see how they match up.
<!-comments-button-->