Many people know Carolyn Hardy as the former Coors employee who purchased the Memphis Coors plant that launch Hardy Bottling in 2006. The contract beverage manufacturing facility's first-year sales were just over 1million dollars and grew to $10 million annually by 2009.
In 2011, Blues City Brewery, chairman George Parks approached Hardy to sell her company. "I tell people all the time to plan for your exit," says Hardy.
In May 2011, Hardy sold Hardy Bottling to Blues City Brewery for 30 million dollars. At the time, Blues City Brewery had most of the beer customers. "I knew with George's beer customers, he could take the facility to another level," says Hardy. Hardy was right. After a $13 million upgrade of the facility in 2016, Blues City Brewery was projecting to hit $64 million by the end of 2017.
After the sale of Hardy Bottling, Hardy transition into the transloading business, Henderson Worldwide Investments, LLC (DBA Henderson Transloading Services). Transloading is the process of transferring a shipment from one mode of transportation to another. It is used when more than one means of transportation used to deliver cargo. International shipments use this process to move product from one inland point to another.
Last month, Carolyn Hardy spoke with a group of entrepreneurs at a sold-out Entrepreneurs Roundtable Luncheon hosted by The Society of Entrepreneurs in which Hardy was the guest speaker. She shared with the audience how she became the person she is today.
Carolyn Hardy is a woman from humble beginnings that don't accept excuses."My daughter will tell you that I don't accept excuses", says Hardy.
She still remember days when she had to walk from Orange Mound to what was then Memphis State University. Hardy wouldn't know if she had bus fare to ride the bus to school until she woke up in the morning. "I made it to school everyday on time no matter what, no excuses", says Hardy.
In Hardy's eyes, it's all about doing your personal best. This serial entrepreneur knows the true meaning of lack. As a child growing up in rural Arkansas, she was the 7th of 16 children. There were times when her father had to decide whether his family would eat or paying the rent. As a result, her family moved about every nine months.
Many times their things would be left outside when they got home. As a young child, she looked at it as a new adventure instead of poverty. She had to deal with eating onion sandwiches and sometimes nothing at all.  "I learned how to go without eating for days," says Hardy. At the age of 13, her dad bought a home where she lived until she graduated from college.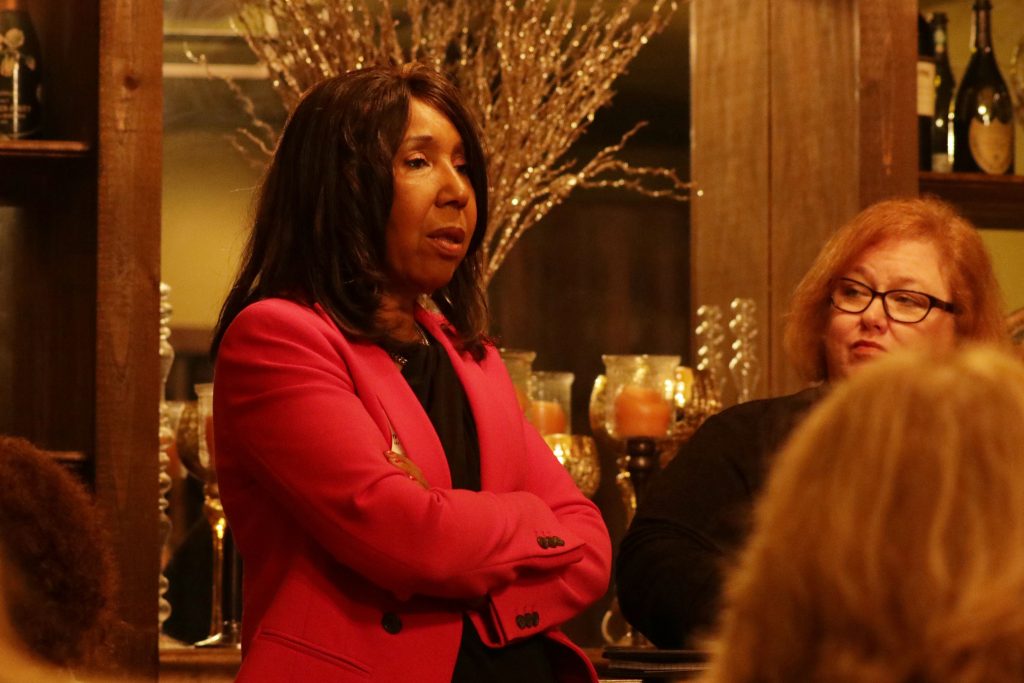 With only an 11th grade education, Hardy's mother instilled the importance of a good education in all of her children. "My mom wanted all 6 of her girls to get a college degree, and the boys had to learn a trade", says Hardy.
Hardy is always willing to advise those looking to become an entrepreneur. Hardy says that she gives people advice on attending workshops and seminars. When they tell her that they don't have the money, she will look down to see if they are walking around with the latest phone or electronic gadget on the market. "I'm walking around with an iPhone 4 or 5", says Hardy.
Hardy says that you must have a business plan because it will keep you focus and on target with your goals. "When people tell me that they don't have time to write a business plan, I tell them maybe they can work on it while they're watching television," says Hardy.
Hardy left the luncheon reminding those in attendance that being a successful entrepreneur is all about setting priorities. Priorities breeds success.