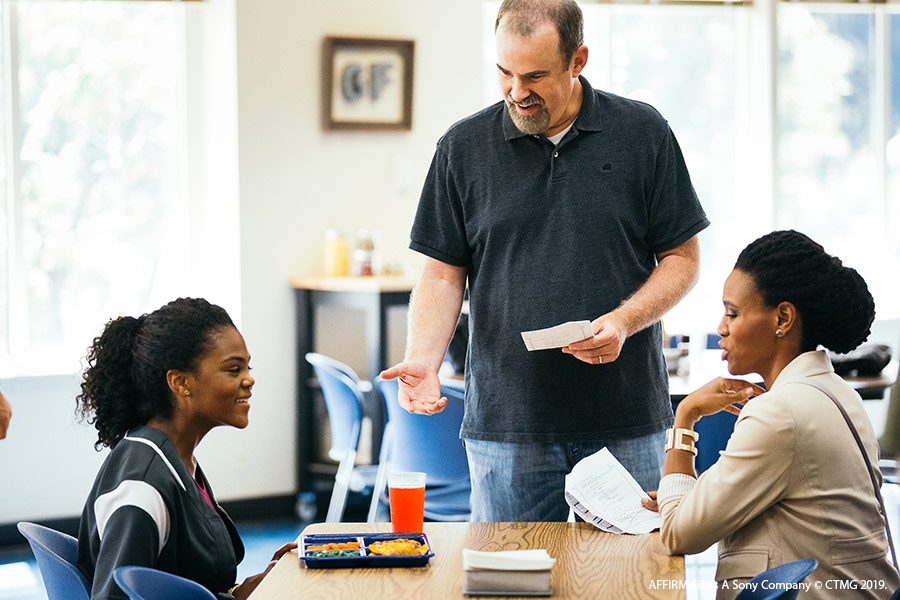 Overcomer isn't just a faith base movie but a movie with several messages. It's the kind of movie that can touch the heart of everyone. Teens, as well as adults, will have takeaways from this movie.
Overcomer mixes a little humor with everyday triumph and pressures of life. The trailer for this movie doesn't do it justice. The movie is more than about a little girl with Asthma going out for cross-country track. The film dives deep into abandonment issues, redemption, forgiveness as well as writing the wrongs of our past. The movie demonstrates how we identify ourselves with so many labels and forget who we are in our core. It's about peeling back the layers to see our inner selves which is a child of God. Overcomer gets very emotional near the end so bring your tissue.
Writer and director Alex Kendrick not only acted and directed in the movie Overcomer but co-wrote the movie with his brother Stephen Kendrick. "When you have good people around you, it's not too hard to play a role and direct at the same time," says Kendrick. The Kendrick brothers also wrote, directed and produced War Room and Courageous among others. Shari Rigby plays opposite Alex Kendrick as his wife, Amy Harrison. "To watch Alex acting, directing and working with the crew, it was absolutely wonderful," says Rigby. Kendrick's real-life son Caleb Kendrick plays his youngest son Will Harrison and Jack Sterner landed the part of Ethan Harrison.
Overcomer is their 6th featured film. They get their movie inspiration through prayer by always asking God for guidance. The Kendrick brothers want their movie to be more than entertaining. They're wanting moviegoers to leave the theatre asking themselves questions that will help them grow in their faith.
One of the most moving parts of the movie is the dynamic relationship between Hannah Scott (Aryn Wright-Thompson), Hannah's grandmother Barbara Scott (Denise Armstrong) and the father she never knew, Thomas Hill (Cameron Arnett). Arnett interviewed with MovieGuide on the Red Carpet Premiere of Overcomer in Dallas.
Arnett describes his character Thomas as a man who didn't live his life in the best way and is now in dire straights. In all of his wrongness, he found the understanding of the true Christ and how people can seek out their purpose through their relationship with Christ.
Everyone would think that being in dire straits and on his last leg he would be mad at the world, but Thomas is still giving life," says Arnett.
Arnett played Ensign Mandel in Star Trek the Next Generation back in the early '90s but being cast in a faith base movie was a different experience. "Working on the set of the Kendrick brothers is a slice of heaven," says Arnett. Arnett gave a powerful performance in this movie in a scene with Armstrong as her character confronts Thomas Hill in his hospital room.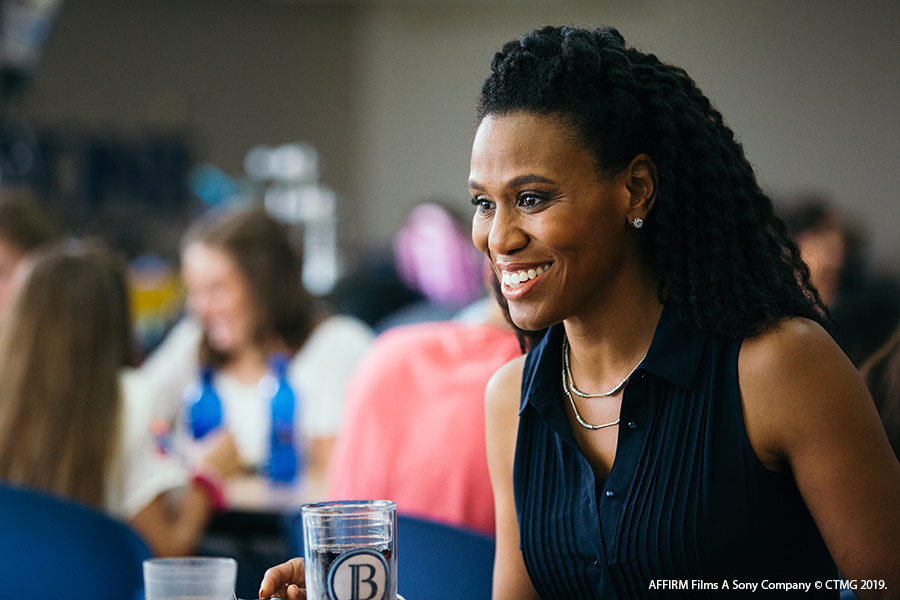 Priscilla C. Shirer plays principal Olivia Brooks. Hill told Shirer that every time he wrote a line for Olivia Brooks, he could hear her saying the words. Shirer is an international speaker, and bible teacher is a New York Times best selling author of several faith-based books. Her first featured film was in "The War Room" when she played Elizabeth Jordan in 2015. Shirer's other acting credits are I Can Only Image and Kingdom Men Rising. "Olivia Brooks strongest asset is seeing things in others that they don't see in themselves," says Shirer.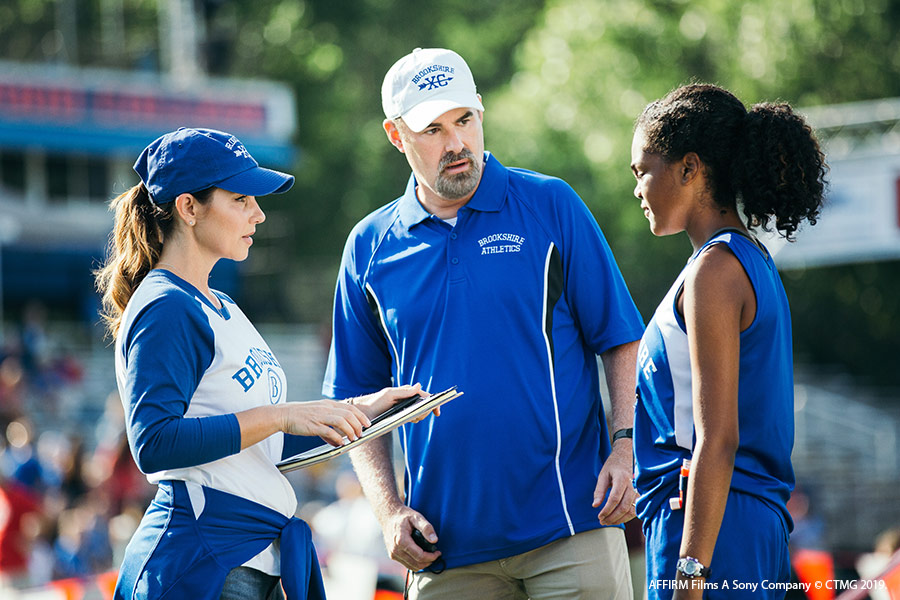 Overcomer is 16-year-old actress Aryn Wright-Thompson's film debut. Wright-Thompson told MovieGuide that she has a history of anxiety which got in her head leading up to filming the lead role. Once the cameras came on, something changed inside of her. She realized that God would never set her up to fail.

Wright-Thompson admits that she has always been the type of person with a desire to fit into the crowd. Working on this movie has changed how she sees herself. "I'm thinking, God loves me, so why am I trying to change for everyone else," says Wright-Thompson.

For those that want to go deep into the religious aspect of the movie Overcomer, there is an official study guide for viewer after seeing the movie. Keep in mind that the study guide has spoilers in case you want to see it before watching the movie. http://www.affirmfilms.com/files/Overcomer_Family_Discussion-Guide.pdf

<!-comments-button-->