Southwest Tennessee Community College (SWTCC) takes on The Amen Corner, a play by playwright James Baldwin. It's about a female pastor who raising her son David as a single parent in a storefront church. Her self-righteous attitude becomes her downfall when her past catches up with her.
This is a stellar cast directed by MaryAnn Washington. Each cast member plays off the strength of each other to give a humorous and at times a dramatic heartfelt production.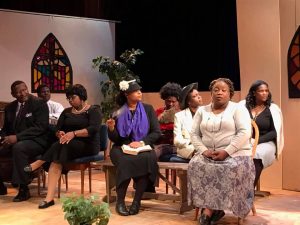 The Amen Corner address the different relationships within the church and the dynamics between a female pastor name Margaret Alexander, played by actress Vermico Smith, and her congregation. Her son David Alexander, played by actor Justin Pugh and understudy Kasey Remus, is the pianos for the church but longs to have a jazz musical career.
Sister Moore played by actress Azana Fuqua makes it her business to tell everyone that she's never been touched by a man and she only seeks the love of Jesus. Although this is her first stage production, the audience won't be able to tell by her great stage presence.
Sister Boxer played by actress Nicole Tate-Jackson and Brother Boxer played by actor David Muskins are the married couple in the congregation that resend pastor Margaret's objection to Brother Boxer taking a job driving a liquid truck even though it would provide a substantial amount of income to his household.
Sharina Shaw plays Ida Jackson, a young woman that comes before the congregation seeking prayer for her sick infant son. Shaw's performance lets the audience fell all the pain and tears she sheds on stage so bring your tissues.
Odessa played by actress Leslie North and understudy April Freeman is the sister of pastor Margaret and defends her against the church congregation. You can see the love she has for her sister and defend's her sister's action even if she does question some of them.
What's interesting about this play is that there weren't very many female pastors in the 1950's when the play was written. It appears that Baldwin had the foresight to see women taking on more of a leadership role in the church.
Baldwin himself grew up in a home with his mother and strict preacher step-father. At one point, he even became a junior minister in his teens but soon became disillusion with the church.
The show last 2 performances are Saturday, February 25th at 7 PM and Sunday, February 26th at 3 PM. All performances are free to the public.
The following completes the production team for the show.
Production Manager – Levi Frazier
Production Assistant – Julian Hudson
Music Dramaturge – David Muskin
Soloist – Fannie Parks
Set Design – Kathy Haaga
Set Construction – Nelson Smith
Lights and Sound – Carl Slappy