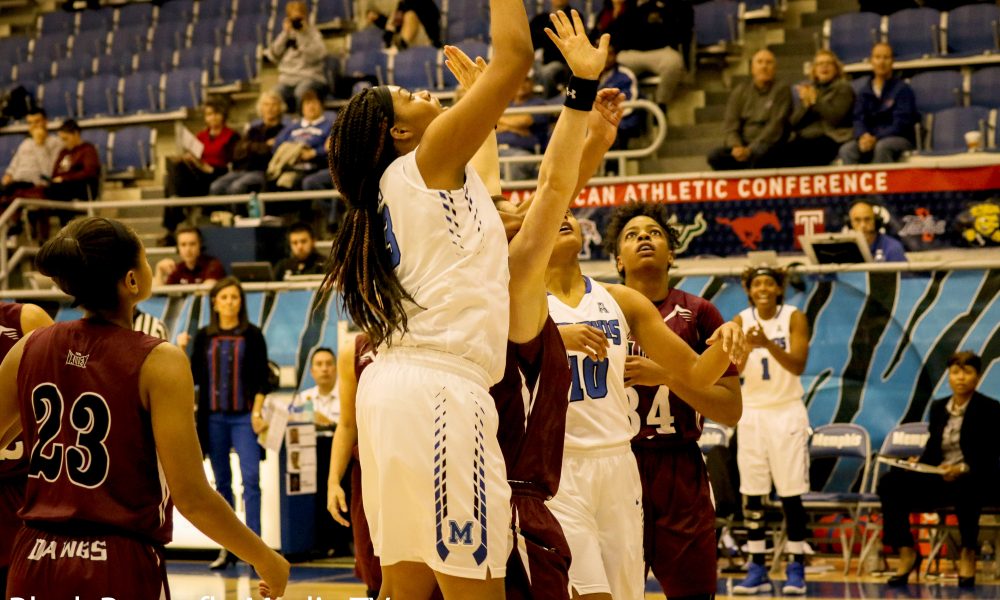 The University of Memphis Women's Basketball suffered its first home loss after losing two road games between Little Rock and Louisiana Tech.
The Lady Tigers were hoping to redeem themselves during their home game against the Southern Illinois Salukis.  The Lady Tigers started off with promise, but after only a few minutes into the game, Cheyenne Creighton suffered an eye injury battling for the ball with Southern Illinois University, Nicole Martin.
The lady tigers depend a lot on the scoring capabilities of Creighton. She was named American Athletic Conference Weekly Honor Roll after earning a career-high of 28 points in the 2nd game of the season against Little Rock. Creighton's injury meant that her teammates were needed more than ever to step up and answer the call.
Freshman Alan Davis answered the call with a double-double on the board for 15 points and ten rebounds during the game. The 6'2 Alana Davis from Cross Creek High School in Augusta, GA showed off her combination of height an power on the court.
Although the lady tigers lost by a score of 68-56, Davis showed that she could push herself to give the lady tigers their needed strength when their shooting percentages are low. Brea Elmore was the second highest scorer for the Lady Tigers with 14 points and three rebounds.
Freshmen Abby Brockmeyer and Nicole Martin of the Southern Illinois University Lady Salukis hit double digits along with senior Kylie Geibelhausen. Freshman Abby Brockmeyer had a double-double with 14 points and ten rebounds for the game. Memphis leads in the all-time series match between the two teams (12-6) which dates back to 1974. This makes the 4th time in a row that SIU has beaten the Lady Tigers.
The Lady Tigers need to increase their free throw percentages as well and improve their scoring if they want to snap their losing streak. The next game is Thanksgiving Day as Lady Tigers take on the Ohio State Lady Buckeyes at 5:00 PM.
The U of M Lady Tigers next home game is Wednesday, November 29, 2017 6 PM when they play IUPUI Jaguars.